2016 POWER WHEELS KIDS DEMO DERBY
Saturday, May 14th 2016, 3:00 PM
(drivers must be there and registered by 2:00 pm)
Herkimer County Fairgrounds; Frankfort, NY
at the SPRING FLING CRAFT FAIR
THIS IS A FREE EVENT !!!
**each driver will receive a prize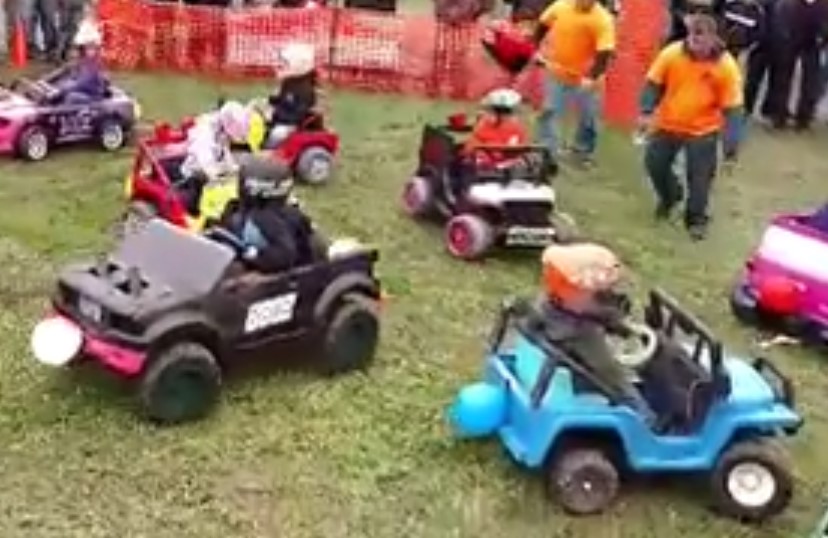 SAFETY IS OUR FIRST PRIORITY FOR ALL THE CHILDREN PARTICIPATING IN THE POWER WHEELS DEMO DERBY! THIS IS SUPPOSED TO BE FUN FOR THE KIDS! PARENTS PLEASE DO NOT RUIN IT FOR THEM. PLEASE FOLLOW THE RULES AND REGULATIONS. YOU COULD HAVE A DISAPPOINTED CHILD IF NOT ALLOWED TO RUN IN THIS EVENT.
No Registration fee. Each child will receive a prize.
RULES – vehicle:
Any regular electric Power Wheel is allowed; car, truck or jeep type. No ATV's, gators, tractors, motorcycles, etc. are allowed. Child's legs must be in a compartment. Ride IN, not ride ON!
Derby is limited to 6 or 12 volt Power Wheels stock vehicles. All Power Wheels MUST remain as they came from the store. No raising or lowering the front or rear of the Power Wheels. Nothing may be added or reinforced for strength.
Stock battery can be replaced with a 12-volt lawn mower battery only. It can be positioned anywhere inside the car and covered with a rubber mat, however, NOT in the passenger seat or in the driver compartment.
Stock tires only. No alterations to tires, axles, steering, etc. No screws or rubber added to the tires. Tires can be covered in duct tape to prevent them from breaking. NO chains.
Decorative changes can be made to the Power Wheels to make it look like a derby car. However, no reinforcements to the Power Wheel. Use cardboard, tape, paper, etc.
Each vehicle will be given a NUMBER on the day of the event to be taped on both the driver's side and passenger side doors, so refrain from decorating those doors.
Seatbelts are recommended, but not mandatory. You will be hitting each other!
All doors and tailgates must be strapped shut. No sharp edges. Use bungee cords, zip ties, duct tape, or other flexible product for making them stay shut.
All drivers MUST provide their own vehicle for competition.
RULES – drivers:
Two different age groups for this event. 1st HEAT – ages 3-6. 2nd HEAT – ages 7-10. (Copy of birth certificate may be requested)
All drivers MUST be accompanied by an adult and have a MINOR RELEASE FORM on file. One adult per driver may accompany driver to competition area and then stand in designated area. No parents/adults on the track once we start.
Helmets are MANDATORY, bicycle helmets are ok.
NO passengers allowed.
Drivers must wear helmet, long pants and closed toe shoes. No shorts or sandals. Knee/elbow pads are permitted, but not mandatory.
RULES – event:
Event will start at 3:00 pm
All drivers and vehicles must register and be present by 2:00 pm
Vehicle inspections will be conducted. Once vehicle passes inspection, vehicle will be given a number to be taped to both the driver side door and passenger side door.
Driver's meeting will be held at 2:30. One parent and driver must be present for this meeting.
1st HEAT – ages 3-6 will start at 3:00.
2nd HEAT – ages 7-10 will follow.
Each driver will get two balloons, one taped to the front and one taped to the back of their vehicle.
Their goal is to pop other driver's balloons. If the balloon falls off your vehicle, the balloon will be taped back on.
The last driver to still have an un-popped balloon on their vehicle, will be the winner of that heat.
Each driver will receive a prize.
This is intended to be FUN for the kids, so let's not ruin it for them!
TO SIGN YOUR CHILD UP AS A DRIVER FOR THIS EVENT:
PRINTABLE FORMS:
Click below to access the KIDS POWER WHEELS DEMO DERBY registration/release form for this event. Please print the PDF document below, complete, sign, and return ASAP to the address listed below:
PLEASE IGNORE THE SECTION ABOUT THE $10 FEE - I have eliminated this fee, but the forms are not updated.
Jennifer Parmon c/o Jenn's Events 319 Lansing Street Herkimer, NY 13350
Click complete the fields below to register your child for the KIDS POWER WHEELS DEMO DERBY.
POWER WHEELS DEMO DERBY Registration Form